Welcome to CanAmAtv
Can-Am News
(Images supplied by S3 Racing)
Cody Taylor of S3 Racing / Can-Am took second in the UTV Short Course MX Pro class at the Mud Nats in his Can-Am Maverick side-by-side vehicle.Read More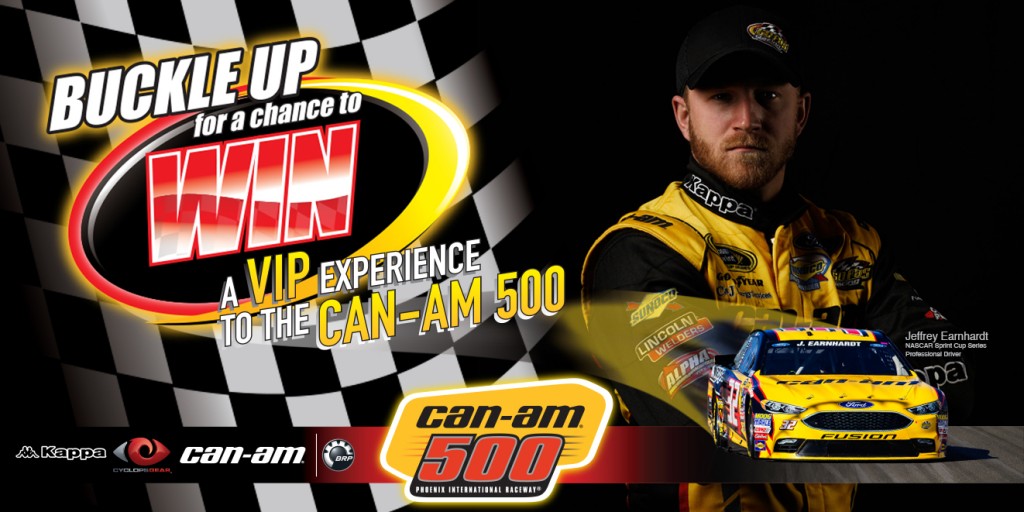 BRP, KAPPA CLOTHING AND CYCLOPS GEAR LAUNCH CONTEST TO SEND FANS TO CAN-AM 500
• Fans earn exclusive VIP experience at Chase for the NASCAR Sprint Cup semi-final race
• Sweepstakes reaffirms BRP's NASCAR Sprint Cup involvement, Go Fas racing team support and Can-Am 500 title sponsorship
Valcourt, Quebec/Canada, April 15, 2016 – BRP, in collaboration with Kappa Clothing and Cyclops Gear, is launching a Can-Am VIP Fan Contest to reward two different winners with a trip to the Can-Am 500, the November 2016 NASCAR Sprint Cup Series race held at Phoenix International Raceway (PIR) in Arizona.Read More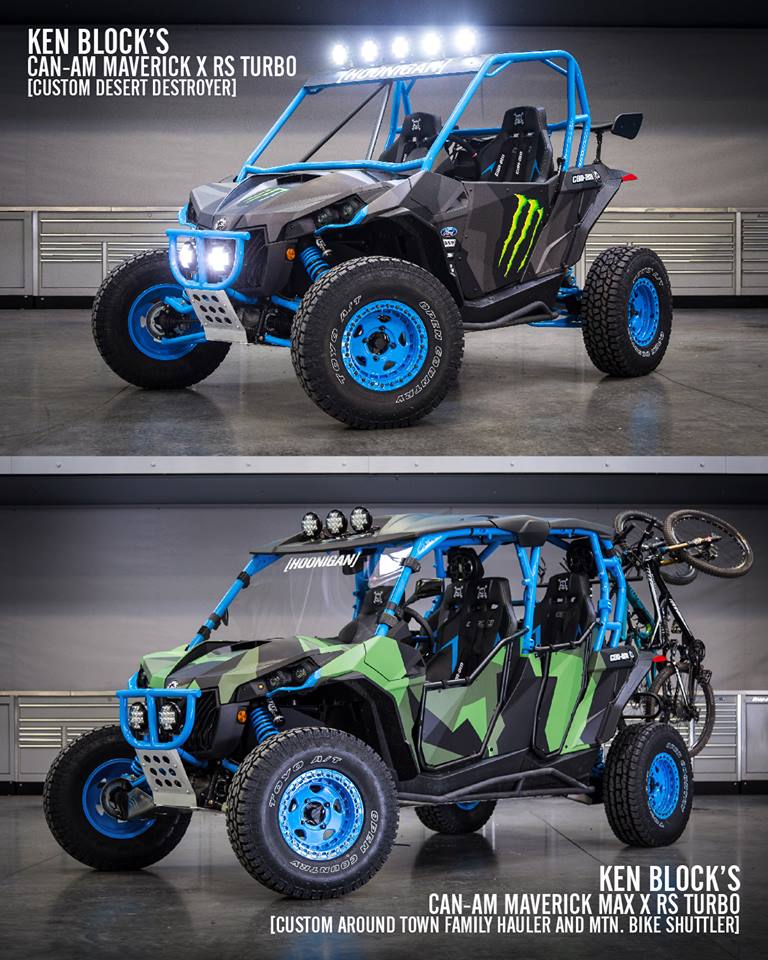 Valcourt, Quebec/Canada, May 5, 2016 – Performance driver and Can-Am ambassador Ken Block, of "Gymkhana" video fame, has lifted the cover off of his modified Can-Am Maverick side-by-side vehicles. Block and his Hoonigan team have personalized his units to fit his lifestyle, and have taken the first steps in their plan for showcasing the performance capabilities of the Can-Am Maverick side-by-side vehicles.Read More
Racing News
• Maverick side-by-side pilot Kyle Chaney wins; Miller has points lead
• Renegade ATV racer Kevin Cunningham wins 4×4 Pro class
Valcourt, Quebec/Canada, April 18, 2016 – Can-Am X-Team racers had a successful weekend, winning both the premier XC1 Pro UTV and the 4×4 Pro classes at the 2016 Big Buck GNCC in Union, S.C. Kyle Chaney drove his Can-Am Maverick side-by-side to the XC1 Pro UTV win, while Can-Am Renegade ATV racer Kevin Cunningham notched a victory in the 4×4 Pro class. Read More
Can-Am Racer Cody Miller Earns Historic Double Victory at inaugural Camp Coker Bullet GNCC 
Maverick side-by-side racing Pros post UTV podium sweep in S.C.
Points leaders: Miller atop XC1 Pro UTV; Cunningham leads 4×4 Pro
Valcourt, Quebec/Canada, May 3, 2016 – Can-Am X-Team racer Cody Miller made history at the inaugural Camp Coker Bullet Grand National Cross Country race in Society Hill, S.C., becoming the first racer to win a 4×4 Pro ATV class and the XC1 Pro UTV class on the same day. Miller was also joined by Can-Am X-Team teammates on the UTV overall and class podiums, giving Can-Am a sweep.Read More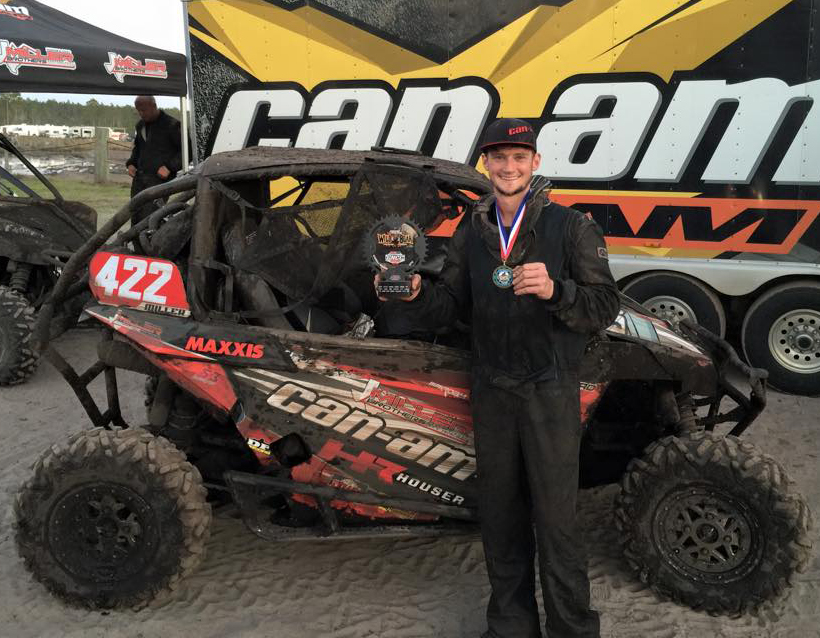 MILLER PILOTS CAN-AM MAVERICK TO GNCC VICTORY
Can-Am Maverick Side-By-Side Drivers Win XC1 Pro and XC2 Pro Sport Classes
Can-Am Racers Win 5 classes, notch 14 podiums at GNCC Opener in Florida
Valcourt, Québec, March 7, 2016 – The Can-Am X-Team side-by-side vehicle racing team kicked off the 2016 Grand National Cross Country season winning both the XC1 Pro and XC2 Pro Sport classes at the series opener in Palatka, Fla. Can-Am Maverick side-by-side vehicle driver Cody Miller won the XC1 Pro UTV ranks, while fellow Maverick pilot Dave Plavi joined Miller on the overall podium and won the XC2 Pro Sport class. Can-Am Renegade racer Kevin Cunningham also finished third in the 4×4 Pro class in Florida.Read More
Side-By-Side Teams Go 1-2-3 in BITD UTV Turbo Class
Can-Am Starts Desert Racing Season with Two Class Wins
Talk about kicking off the year with a bang! The Can-Am X-Team took a podium sweep in the UTV Turbo Class at the Best In The Desert (BITD, for short) THR Motorsports Parker 250 Opener in Arizona. Dustin Jones and Shane Dowden (Can-Am / S3 Racing) won the class. Earning 2nd on the Turbo class podium was Logan Gastel; Murray Racing placed 3rd on the podium. In the Expert Ironman (ATV) class, Chris Robinson (Can-Am ATV), also posted a class victory.

Can-AM is sponsoring the November 2016 Nascar Sprint Cup Race at Phoenix International Raceway.  This November race has sold out for the last 5 years and is the last of the "Eliminator Round" that determine's the final 4 drivers for the championship. Read the full press release here.
About Us
CanAmATV.net is your home for everything ATV, Side by Side and Spyder too! Our site not only has tech articles, shop manuals, service bulletins, video and a forum but everything on CanAmATV.net is provided by a BRP Authorized shop, Perry Performance Group. That means all the information on this site is vetted by a Perry Performance Group Technician with years of experience on BRP equipment.
This isn't another "fan site", this is the real deal if you are serious about your Can-Am! Check out our shop gallery here to see how serious our technicians are.
Old No. 27 Brand Products