2014 Outlander 400 Family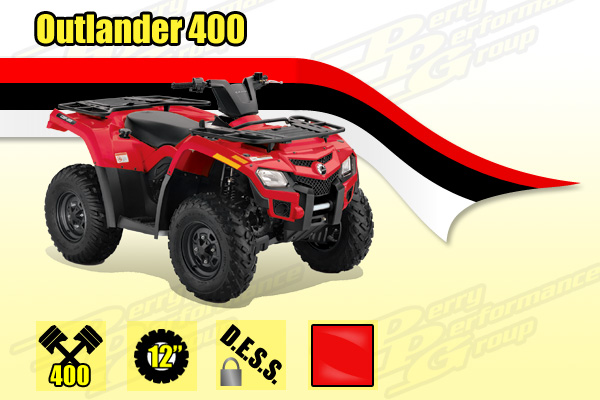 Base Outlander 400 comes with…
PERFORMANCE
32-HP Rotax 400
Visco-Lok front differential
Torsional Trailing arm Independent (TTI) rear suspension with no scrub and up to 75% fewer moving parts
Automatic, get-on-and-go continuously variable transmission (CVT)
Surrounding Spar Technology (SST) frame
Availability of the MAX 2-up configuration
25-inch (63cm) Carlisle Trail Wolf tire
Digitally Encoded Security System (D.E.S.S.)
Front and rear steel racks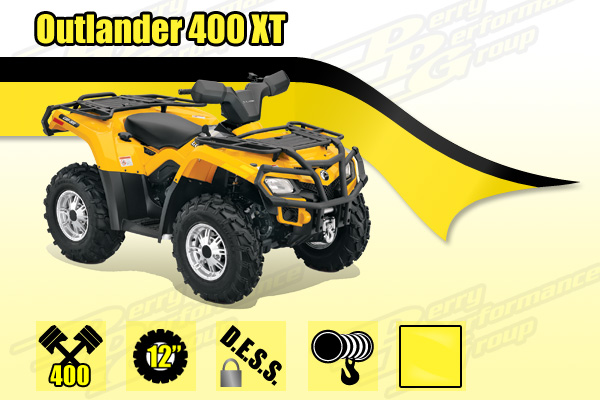 Outlander 400 XT – Comes with a Winch, Heavy-duty Bumpers and…
BASE Model Plus:
3,000-pound BRP XL winch
12-inch (30.5cm) XT-specific cast-aluminum wheels
26-inch Carlisle ACT Radial tires
XT Specific front and rear bumpers
Handlebar wind deflectors
Colors available: yellow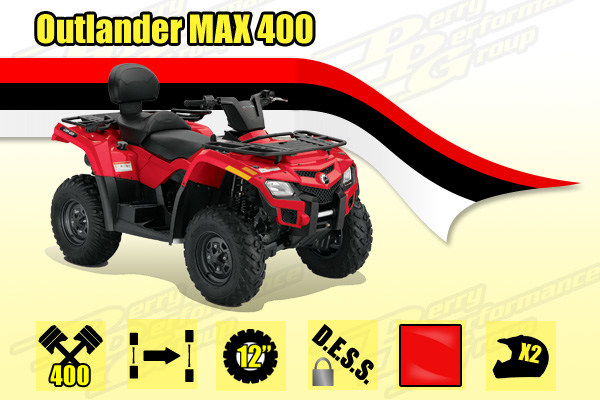 Outlander 400 MAX Comes with 59″ Wheelbase and…
BASE Model Plus:
CVT transmission with improved cover
59-inch wheelbase
Industry-leading styling
Passenger seat with Dynamic Passenger Comfort (DPC)
Passengers handholds
Passenger footrests
Convertible Rack System (CRS)
Multi-function digital gauge
Available in Red
Want more info?  Here's the juicy details:
DETAILS – All Outlander 400's Come with:
Rotax 400 EFI Engine
The advanced single-cylinder engine remains the most powerful engine in its class* (32 hp) and features a liquid-cooled, single overhead cam power plant with four valves per cylinder. It fed by a 46mm downdraft throttle body with a single VDO Siemens fuel injector and progressive throttle control for precision throttle control in any trail condition. EFI automatically keeps the 400 engine's performance at its peak, regardless of temperature or altitude.
Visco-Lok front differential
Progressively and automatically transfers power from the slipping front wheel to the one with grip. The system can lock up to 100 percent with no rev or speed limiter and doesn't require the rider to push a button or pull a lever. Plus, there's no wheel hop or driveline wind-up so the system is totally transparent to the driver and extremely easy to steer.
Trailing Torsional Independent (TTI) rear suspension
With up to 75 percent fewer parts than competitive systems, Trailing arm design provides excellent control and stability, especially in rough terrain by eliminating scrub. Wheels move rearward as they move up and down producing a smoother ride than the competition, keeps the ATV from wavering down the trail and decreases tire wear.
Surrounding Spar Technology (SST) frame
Rather than the common tubular box chassis, the SST frame is a single spar that is lightweight, yet strong. It contributes to the Outlander model's benchmark power-to-weight ratio and low centre of gravity.
25-inch (63cm) Carlisle Trail Wolf tire
Lightweight and great handling tires for the base model.
Inboard disc brakes
Unique design both front and rear reduces unsprung weight and helps centralize masses for more responsive handling. Also better protects against mud and debris.
Digitally Encoded Security System (D.E.S.S.)
Industry's first standard anti-theft device. Electronic code in key must match code in ECU to start.
Front and rear steel racks
Features 300 pounds of combined rack capacity — 100 pounds (45 kg) in front and 200 pounds (90 kg) in the rear.
DETAILS – All Outlander 400 MAX's Come with:
Longer vehicle wheelbase
The passenger rides well in front of the rear axle for rock-solid stability and super predictable handling.
Stadium-style seating
The passenger rides above the driver, stadium-style, and can see down the trail.
Passenger comfort features
A well-padded active backrest moves with rider. Raised footrests and multi-position handholds add comfort.
Convertible rack system
The passenger seat is removable and can be replaced with a rack-extension/ totable cargo box in just seconds – without tools. BRP offers several accessories, such as a cargo box and touring box that interface seamlessly with this system.