2014 Outlander 500 Family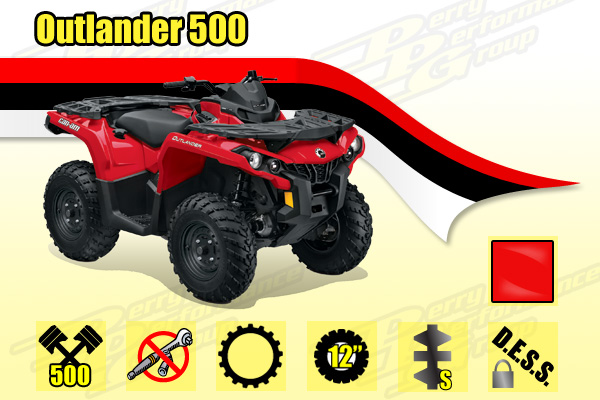 Outlander 500 BASE comes with…
PERFORMANCE
46-HP Rotax V-Twin 500
Dual-room, no-tools air box
CVT transmission
Large radiator
High-grade exhaust and silencer
HANDLING
SST G2 frame
Double A-arm front suspension with dive-control geometry
TTI rear suspension
Visco-Lok front differential NOT QE (QE = Quicker Engaging)
214mm disc brakes with twin-piston calipers
12-inch (30.5cm) cast-aluminum center-less wheels
26-inch (66cm) tires
Standard skid plate
RIDER-FOCUSED DESIGN
High-strength, multi-function racks with innovative and industry-exclusive LinQ system
Water-resistant rear storage box with best-in-class volume
1,300-pound towing capacity
Easy access to maintenance items
Industry-leading 230-watt headlights
Dual integrated taillights
Larger fuel tank
Multi-function digital gauge
D.E.S.S. (Digitally Encoded Security System)
Comes ready to accept the entire line of BRP's new LinQ accessory system
Outlander 500 DPS
BASE Model Plus:
Tri-Mode Dynamic Power Steering (DPS)
Visco-Lok QE front differential
12-inch cast-aluminum wheels with a center-less design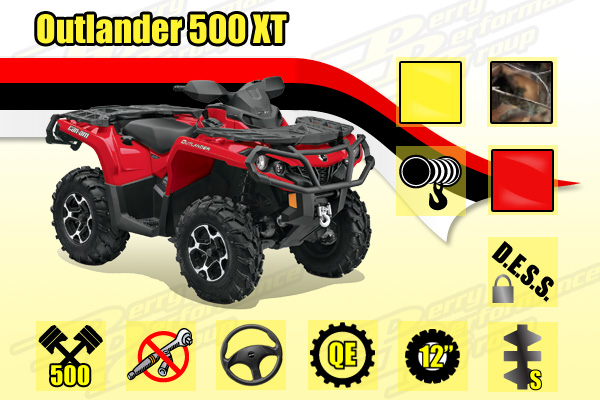 Outlander 500 XT – Comes with a Winch, Heavy-duty Bumpers and…
BASE Model Plus:
3,000-pound WARN winch
12-inch black, machined cast-aluminum wheels with center-less design
26-inch Carlisle ACT Radial tires
Heavy-duty front and rear bumpers
Handlebar wind deflectors
Colors available: yellow, red and NEXT G-1 Vista camo plastic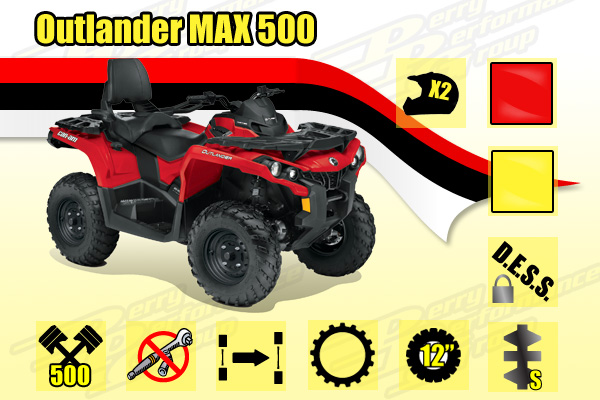 Outlander 500 MAX Comes with 59″ Wheelbase and…
BASE Model Plus:
CVT transmission with improved cover
59-inch wheelbase
Industry-leading styling
Passenger seat with Dynamic Passenger Comfort (DPC)
Passengers handholds
Passenger footrests
Convertible Rack System (CRS)
Multi-function digital gauge
Available in Red
Outlander 500 MAX DPS Comes with…
MAX BASE Model Plus:
Tri-Mode Dynamic Power Steering (DPS)
Visco-Lok QE front differential (QE = Quicker Engaging)
Can-Am Yellow Plastic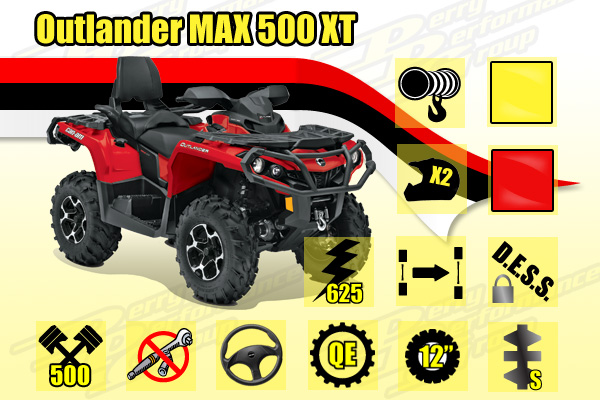 Outlander 500 MAX XT Comes with…
MAX BASE Model Plus:
3,000-pound WARN winch
12-inch black, machined, cast-aluminum wheels with center-less design
26-inch Carlisle ACT Radial tires
Heavy-duty front and rear bumpers
625-watt magneto
Handlebar wind deflectors
Colors available: yellow and red
Want more info?  Here's the juicy details:
DETAILS – All Outlander 500's Come with:
Rotax V-Twin 650
The 499cc liquid-cooled Rotax V-Twin powerplant produces 46 horsepower and more power than competitive models with much larger displacements. With an unmatched power-to-weight ratio and electronic fuel injection, the single overhead cam engine is as efficient and very capable of work and play. Regardless of temperature or altitude, EFI ensures optimal performance from the engine at all times.
Despite its unprecedented performance levels, the eight-valve engine remains controllable and offers useable power for a wide array of riders and situations. Progressive throttle control means the power remains manageable in slow-speed circumstances or during a flat-out sprint.
Dual-Room, No-Tools Air Box
The Outlander 500 air box is placed at a higher and more centralized location for filtering and processing air. The no-tools air box features a dual-room design that improves the air filtration process and the quality of air by capturing dirty air in one portion of the box and clean air in another section before it sends the air to the engine. The air intake is also higher in the frame to improve the machine's capabilities in the mud and water. Accessing the filter for maintenance and inspection only requires the removal of the seat, console plastic and exterior push plate. The air filter is securely attached to the air box housing with a screw-on system and push plate that work in tandem to create a tight seal.
CVT Transmission with Improved Cover
The CVT system improves the transmission performance in wet terrain and conditions with its secure, 13-bolt sealing system.  A dedicated drain plug is built into the cover and easily accessible if the need ever arises to remove water from the CVT housing. The CVT intake is at a higher location in the chassis for optimal performance in wet riding conditions. Automatic transmission with standard engine braking featuring high, low, park, neutral and reverse is also included.
Large Radiator
The large, efficient radiator offers around 22 kW of cooling capacity to keep the engine running cool for optimal performance.
High-Grade Exhaust and Silencer
The Outlander has a durable end cap/cover on its silencer to contribute to the exhaust's upper-class appearance. The system remains true to the Can-Am tradition of producing a throaty and impressive exhaust note, yet adheres to strict dB and emissions.
SST G2 frame
The Outlander 500 uses the next generation and industry-exclusive Surrounding Spar Technology (SST) frame from BRP. Introduced for the 2012 model year, the welded-steel frame incorporated new processes and exclusive geometry for increased structural integrity, improved durability and precision handling. The more efficient SST design offers increased strength compared to a traditional tubular steel chassis, a lower center of gravity, better handling and requires far less components, materials and welds.
Even with the improved frame, engineers incorporated almost 16 percent less parts on the frame than the frames. The frame is more durable and can accept more than two times greater force and has twice the torsional stiffness as the original chassis.  This frame, more properly meets the high expectations of the end user for both work and play.
Double A-arm front suspension with dive-control geometry
The front suspension features a dive-control and anti-kickback geometry that positions the pivot points in space instead of simply adding stiffer shocks and springs. The geometry also inspires confidence-reducing kickback to the operator by locating the knuckle in the wheel. This front suspension gives the Outlander improved ride quality and comfort without hampering handling.
Five-way preload shocks that offer more than an inch of additional suspension travel for both trail comfort and aggressive riding situations. Front-end suspension travel is 9.0 inches (22.9 cm).
Trailing Torsional Independent (TTI) rear suspension
Unique to Can-Am and inspired by trophy trucks, the proven Torsional Trailing arm Independent (TTI) rear suspension offers increased rigidity, improved suspension travel at 9.3 inches (23.6 cm) and includes a removable external sway bar. The TTI, which offers up to 75 percent less moving parts than competitive systems, was designed to eliminate tire scrub and camber changes when the suspension moves up and down. This setup improves ride quality and suspension travel, keeps the ATV in a straight line and requires less steering adjustments than competitive models. Lower pivot points provide geometric squatting for improved traction and the transfer of power to the ground as well as a slightly different feel compared to previous Outlanders.
214mm disc brakes with twin-piston calipers
The 2014 Outlander 500 family features outboard hydraulic disc brakes. The front setup uses large 214mm disc brakes with twin-piston calipers for superior stopping power. At the rear, the models use a single twin-piston caliper and 214mm hydraulic disc brake that is located in the right, rear wheel.
12-inch (30.5 cm) cast-aluminum wheels
Can-Am designers equipped the Outlander with innovative computer-optimized wheels. A center-less wheel design reduces unsprung weight but offers improved strength. Durability increased in strategic areas while excess material was eliminated in other areas to save weight.
26-inch (66cm) tires
Mated to the cast-aluminum wheels are rugged 26-inch (66cm) Carlisle Badlands tires that offer superior performance in a variety of conditions and terrain.
Standard skid plate
The high-strength skid plate is made from proven materials and is designed for supreme protection and has the ability to slide over certain obstacles.
Stylish design
The 2014 Outlander 500 features a modern, cutting-edge styling that projects the image of aggressive sophistication without losing the recognizable sightlines of the Can-Am brand DNA. Its muscular facade includes a more seamless makeup and low profile, multi-function cargo racks with a special anti-slide surface. Less apparent fasteners mean a cleaner look.
High-strength multi-function racks with innovative LinQ system
The high-strength, reinforced composite racks feature an integrated anti-skid surface and elevated ridges for improved cargo holding. Versatility is enhanced with numerous edges and holes. Predetermined "cutouts" were also added for use with Can-Am's exclusive LinQ quick-attach accessory system, which is adaptable and customizable for various uses and products. The new racks have a combined rack capacity of 300 pounds (100 front / 200 rear).
Water-resistant rear storage box
A huge 5.7-gallon (21.4-liter) rear storage box offers industry-leading cargo capacity and is located beneath the rear cargo rack. The more-convenient location means riders can access the water-resistant, sealed storage box even when the rear cargo rack is loaded.
1,300-pound towing capacity
The Outlander offers a sizeable, 1,300-pound towing capacity and a 2-inch receiver hitch as standard equipment.
Easy access for maintenance
The Can-Am Outlander 650 has a maintenance-friendly design. The battery is beneath the seat to offer easier access and improved protection. The rear brake fluid reservoir, solenoid starter and relays are also conveniently located under the seat.
230-watt lighting from headlights
On high beam, the twin 60-watt reflectors and dual 55-watt projectors give the Outlander 230 watts of visual clarity. The Outlander 650 family features the most lighting output of any ATV in the industry.
Dual taillights
The taillights offer a stylish design and increased visibility for trail riding.
Large fuel tank
The Outlander has a capacity of 5.4 gallons (20.5 liters), which means one can ride longer and work harder.
Multi-function digital gauge
The LCD display provides the rider with a speedometer, tachometer (bar graph RPM, bottom bar numerical RPM), odometer, trip and hour meters, diagnostic center, gear position, engine hour meter, 4×4 indicator, temperature and engine lights, fuel gauge, clock and even an auto shut off after 15 minutes.
D.E.S.S. (Digitally Encoded Security System) Keys
D.E.S.S. is the ATV industry's lone factory-installed anti-theft device. The system utilizes electronic key codes that are required to match each specific ATV's ECM. The machine will not start unless the coded microchip in the key matches the code pre-installed in the engine control module. Two keys are included with each model. The performance key allows the ATV to operate at maximum performance. The Normal key limits acceleration and top speed.
Customization ready
The Outlander ATVs are customization ready, offering a full line of Can-Am performance accessories and come prewired for a winch.
DETAILS – All Outlander 500 MAX's Come with:
BASE Model Plus:
59-inch Wheelbase
The 2014 Outlander MAX 500 (like all MAX models) has an 8-inch longer wheelbase over the standard Outlander. The added length allows the passenger to sit in front of the rear axle for improved handling and comfort. The stretched design also improves the ride for single riders.
Passenger seat w/ Dynamic Passenger Comfort (DPC)
The Outlander MAX ATVs have specially developed passenger ergonomics to produce the most comfortable and consumer friendly two-rider vehicle to date. DPC means an ergonomically favorable passenger seat and other comfort features to improve the overall ride and optimal seating position.
The taller backrest is very supportive and also pivots 8 degrees to help reduce kick back to passenger during acceleration and climbs. Can-Am engineers also added regressive flex to the top and sides to enhance comfort levels. The seat is also angled and formed to provide better "groove," more overall support and minimize passenger movement in off-road conditions.
Passenger handholds
The higher, angled rear passenger handle position allows for flex while riding and also reduces the overall impact to the passenger's hands. The handles also allow for numerous hand positions to enhance the passenger's riding experience and comfort level. Attached to the seat, the handles don't limit rear rack space or prohibit single-rider comfort during one-up riding.
Passenger footrest
The foot peg angle and depth, along with a third row of grips, on all MAX models with the G2 SST frame create a comfortable platform and improved lateral grip.
Convertible Rack System (CRS) w/ box
The Outlander MAX is the lone two-up ATV that comes standard with a Convertible Rack System (CRS) for transforming the ATV into a single-rider machine. The transition literally takes just seconds and eliminates the touring look and feel when riding alone. The fact that the passenger handholds are attached to the seat means they don't inhibit rider movement or take up rear rack space. The CRS system includes a small storage box that uses the LinQ system and removes the void when the
passenger seat is removed. A rear optional cargo box is also available from PAC.