2014 Renegade 500 Family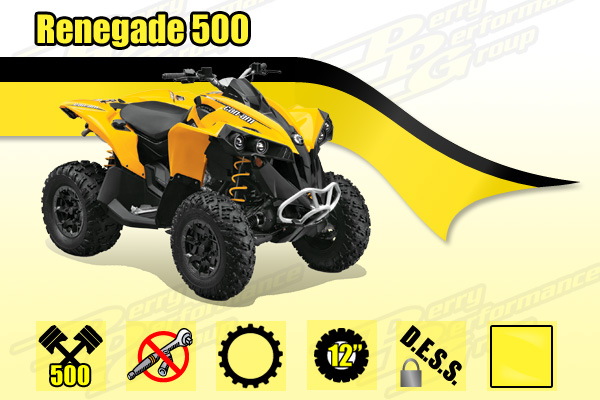 BASE Renegade 500 Comes with…
Performance:
46-HP Rotax V-Twin 500
CVT transmission
Large radiator
High-grade exhaust and silencer
Dual-room, no-tools air box
Handling:
SST G2 frame with Geometric Contact Control principles
Double A-arm front suspension with dive-control geometry
TTI rear suspension
Front and rear motion control shocks (Not FOX)
Visco-Lok front differential
214mm disc brakes with twin-piston calipers
12-inch (30.5 cm) cast-aluminum wheels with centre-less design
ITP Holeshot ATR tires (base model)
50 pounds (23 kg) lighter than the Outlander 500 model
Rider-Focused Design:
Easy access to maintenance items
Large fuel tank
Full floorboards with aggressive foot pegs with kick-ups
Want more info?  Here's the juicy details:
ALL Renegade 500's Come With:
Rotax 800 V-Twin engine
Supplying 46 horsepower, the 80º SOHC V-twin engine has four valves per cylinder and is fed by a 46mm throttle body and two VDO Siemens‡ fuel injectors. The intelligent EFI system automatically maintains peak performance, regardless of temperature or altitude, and contributes to the liquid-cooled engine's potent power and seamless delivery. The 500 features manageable power because of its progressive throttle system, which improves control for both slow-speed, technical climbs and high-speed getaways.
CVT Transmission
For performance in wet conditions and terrain, the CVT system has a 13-bolt sealing system and an integrated drain plug that's easy to access if the need ever arises to remove water from the CVT housing. The CVT intake is positioned in a high location in the chassis for optimal performance in wet riding conditions. Automatic transmission with standard engine braking featuring high, low, park, neutral and reverse is also included. The transmission is specifically calibrated for sportier performance and use in the Renegade.
Large Radiator
A larger radiator (14 kW increase) doubles the cooling capacity on the 500 and maintains a cooler engine temperature for peak performance.
High-grade exhaust and Silencer
The engine package includes a performance-inspired exhaust system, and a durable end cap/cover contribute to the exhaust's upper-class appearance. The system remains true to the Can-Am tradition of producing a throaty and impressive exhaust note, yet adheres to strict dB and emissions standards.
Dual-Room, No-Tools Air Box
The second-generation model also uses a dual-room air box design and location on the Renegade 500. The air box – which features a no-tools design — was placed at a higher and more centralized location for filtering and processing air. It also has a dual-room air filtration design that captures dirty air in one portion of the box and clean air in another section before it sends the air to the engine. The 500's capabilities in the mud and water were improved thanks to the higher air intake. Accessing the air filter for routine maintenance and inspection only requires the removal of the seat, console plastic and exterior push plate. A screw-on system and push plate work together to ensure the filter is securely attached to the air box housing.
Surrounding Spar Technology (SST) G2 Frame
The Renegade 500 uses the next generation and industry-exclusive Surrounding Spar Technology (SST) G2 frame introduced in 2012. The welded-steel SST frame offers increased structural integrity, improved durability and precision handling. The SST design offers also increases strength, provides a lower center of gravity, improves handling and requires far less components, materials and welds than a traditional tube frame. The SST frame also stronger torsional stiffness to more properly meets the high expectations of the end user for both work and play.
Double A-Arm Front Suspension with Dive-Control Geometry
The Renegade 500 retains its race-proven double A-arm setup. The 2014 model uses motion control shocks with five-way adjustable preload settings. Front-end suspension travel is 9 inches (23.6 cm). Dive-control geometry tightly controls the roll-center, especially when entering corners. The setup also inspires confidence, reducing kickback to the operator, by locating the knuckle in the wheel.
Trailing Torsional Independent (TTI) Rear Suspension
The TTI, which offers 75 percent less moving parts than competitive systems, was designed to eliminate scrub and camber changes when the suspension moves up and down and keep the quad in straight line. Unique to Can-Am, the proven Torsional Trailing arm Independent (TTI) rear suspension offers increased rigidity and 9.3 inches (23.6 cm) of travel. A removable external sway bar and lower pivot points improve geometric squatting to improve traction and the transferring of power to the ground.
Front and rear motion control shocks
The Renegade 500 wears front and rear motion control shocks to smooth out the trail. The shocks offer five settings of adjustable preload. The suspension supplies 9 in (229 mm) of travel up front and 9.3 inches (236 mm) in the rear.
Visco-Lok Front Differential
The innovative Visco-Lok front differential is unique to the ATV industry. The progressive auto-locking system constantly monitors front wheel speed and, if it detects one wheel spinning more quickly than the other, it progressively sends additional power to the wheel with better traction. Wheel hop or driveline wind-up is virtually eliminated to keep the system transparent to the operator. The 100 percent locking differential means no need for a rev or speed limiter or special-functioning levers to pull.
214mm Hydraulic Disc Brakes
Two large 214mm disc brakes with twin-piston calipers for superior stopping power can be found up front on the Renegade 500. At the rear, the model uses two, twin-piston caliper and 214mm hydraulic disc brakes. The system also includes separate front and rear hand brake levers for optimal control.
12-inch (30.5 cm) Cast-Aluminum Wheels
The Renegade 500 model has innovative computer-optimized, center-less wheels to reduce unsprung weight and offer improved strength, durability increased in strategic areas while excess material was eliminated in other areas to save weight.
25-inch (66cm) ITP Holeshot ATR Tires
A versatile tire for proven all-around trail performance and superb traction.
Easy Access for Maintenance
Like on the Renegade 800R and 1000 models, the 500's battery was relocated beneath the seat to offer easier access and improved protection. The rear brake fluid reservoir, solenoid starter and relays are conveniently located under the seat.
Enhanced lighting
The Renegade 500 comes with four 60 w projector-type headlights (240 w) for improved nighttime clarity and trail visibility.  The lights add to the Renegade styling package as well as provided added safety while riding the trails. The taillights offer a stylish design that blends in with the rear plastic and offers increased visibility for trail riding.
Large Fuel Tank
The large fuel tank holds 5.4 gallons (20.5 liters) of gas, so you can ride and explore longer.
Digitally Encoded Security System (D.E.S.S.)
D.E.S.S. is the ATV industry's lone factory-installed anti-theft device. It utilizes electronic key codes that are required to match each specific ATV's ECM. The machine will not start unless the coded microchip in the key matches the code preinstalled in the engine control module. Two keys (a performance key for maximum performance and a normal key for limited acceleration and speed) are included with each model.