2014 Youth ATV Family
Can-Am Youth ATV Family at a Glance
DS 90 X, DS 90 and DS 70
*Designed to ergonomically accommodate young riders, these models are outfitted with youth-sized controls and safety features.
DS 90 X and DS 90 are Y10 models and are appropriate for riders ages 10 and older
DS 70 is Y6, meaning they are appropriate for riders 6 and older
Easy-to-operate 90cc or 70cc four-stroke engines
Child-specific ergonomics
Continuously Variable Transmission (CVT) means no shifting; Forward/Neutral/Reverse
Long-travel suspension
Stylish appearance influenced by Can-Am sport quads
Throttle limiter, full floorboards, day lights
Pre-load adjustable front-and-rear load adjusters
Meets CARB "Green Label" emissions standards
DS 90 X package available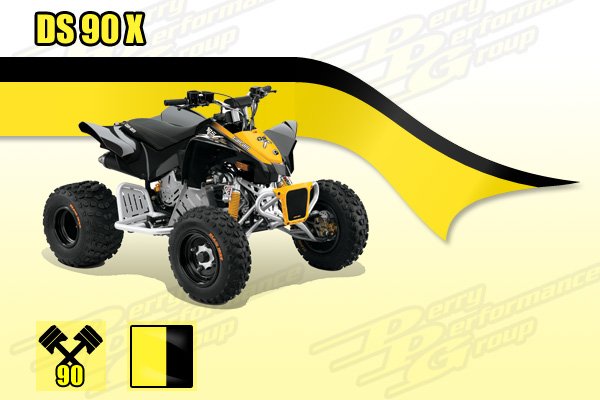 DS 90 X – Comes with DPS, Handling Enhancements and…
BASE model Plus:
X-package graphics and color scheme
Double A-arm front suspension with 43-inch (109 cm) overall width
Front HPG piggyback shocks with 7 inches (18cm) of travel
Rear HPG piggyback shock with 9 inches (23 cm) of travel
41-inch rear overall width (104cm)
Hydraulic front and rear disc brakes
Black aluminum rims
Square, race-influenced handlebar pad
Front bumper with number plate
Nerf bars with netting
Racing pegs with kick-ups
Sport-inspired exhaust
Black plastic
Premium embroidered X-package seat cover
Youth Model Features and Benefits:
Y10 designation for DS 90 X and DS 90
Both DS 90 models are designated Y10 ATVs, meaning they are appropriate for riders 10 and older. They have an updated H.O. engine and a maximum unrestricted speed of 30 mph (48 km/h).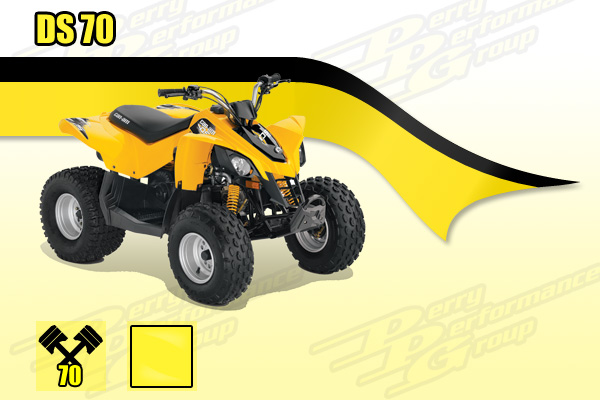 Y6 designation for DS 70
The Y6-designated DS 70 is intended for riders aged six and older, and offers a maximum unrestricted speed of 15 mph (24 km/h).
Automatic CVT transmission with forward, neutral and reverse
Continuously Variable Transmission lets riders focus on the terrain and does not require shifting or a manual clutch operation.
Long-travel suspension
Improved ride and control in the bumps.
Can-Am DS-type styling
Emulates full-size Can-Am DS 450 styling, so kids can look as fast as their sport quad heroes and parents.
Front storage compartment
Young riders desire convenience as much as adults.
Day lights
Improves visibility and gives the look of a full-size ATV.
Full Floorboards
Offers protection from debris and ensures secure footing in rugged terrain.