2013 DS 250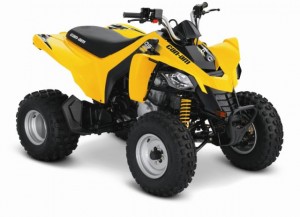 Designed as an entry-level, T-class ATV for riders 14 years of age and older, the Can-Am DS 250 from BRP offers many convenience features to go with its solid performance package. A hearty, liquid-cooled 249.4cc four-stroke engine — mated to a simple-to-operate automatic transmission (CVT) — powers the DS 250 ATV. The standard hydraulic disc brakes with separate front and rear controls, preload-adjustable suspension, reverse and full lighting lets riders fully interactive with the vehicle. The DS 250 incorporates styling cues with its larger Can-Am sibling, the race-ready DS 450 X mx.
DS 250 Highlights
T-Class designation for riders 14+
Liquid-cooled 249cc engine
CVT transmission
Hydraulic disc brakes with steel-braided brake lines
Front and rear shocks adjustable for spring pre-load
Meets CARB "Green Label" emissions standards
Can-Am DS 250 Features and Benefits
T-Class designation
A T-class ATV designation means it is designed for and can be operated riders 14 and older. It features a maximum unregulated speed of 38 mph (61 km/h).
Liquid-cooled 249cc engine
One of the only liquid-cooled ATVs in its category, the single overhead cam and four-valve four-stroke engine powering the DS 250 offers consistent, rousing power for entry-level riders. Includes a built-in throttle limiter and electric start. Handlebar-mounted choke lever.
Automatic CVT Transmission
Offering swift acceleration, the Continuously Variable Transmission requires no shifting. Features an automotive-type shifter with forward, neutral and reverse settings.
Hydraulic disc brakes with steel-braided brake lines
Improved riding control and stopping power is supplied by front and rear hydraulic disc brakes. The system includes separate front-and-rear brake control and braided stainless steel bake lines to reduce fade.
Front and rear spring pre-load load adjusters
Five-position adjusters on the motion control shocks include five-way preload adjusters to alter the rider setting according to the operator's weight and the terrain conditions.
Full lighting
For improve visibility and trail illumination, dual 35-Watt headlights are standard. A single taillight/brake light is an added safety feature for trail riding.
Stylish Design
Classy sport-quad appearance with enough of a stylistic edge to get you noticed.
2013 DS 250 ATV Specifications