2013 Outlander 500 Family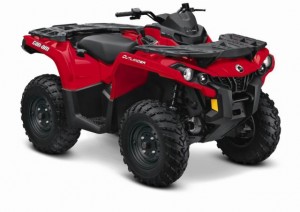 A more powerful 46-horsepower Rotax engine and the G2 Surrounding Spar Technology (SST) frame and suspension updates make for a new-from-the-ground-up 2013 Outlander 500 line of ATVs. The Outlander 500 is available in three trim levels in three colors for 2013. The Outlander 500 model includes 12-inch steel wheels. Tri-Mode Dynamic Power Steering (DPS) with Visco-Lok QE and cast-aluminum wheels are available on the new, value-based Outlander 500 DPS package. The XT package offers the two standard colors or NEXT G-1 Vista camouflage plastic.
Using geometric principles of design we call Geometric Contact Control, Can-Am engineers designed the Surround Spar Technology (G2) chassis to be able to deliver the hardcore performance the Can-Am brand is known for, yet enhance the overall comfort of the vehicle at all levels of riding.
The Outlander 500 maintains its unrivalled engine performance with a more powerful 46-horsepower 499cc Rotax VTwin, which represents a 15-percent increase in power from the previous Rotax 500 powerplant. The stylish Outlander 500 offers precision handling and point-and-shoot dynamics that blend well with its superior comfort, ergonomics and conveniences levels. The end result is a modern do-it-all ATV with a no-compromise makeup.
Can-Am Outlander 500 Family Highlights
46-HP Rotax V-Twin 500
Dual-room, no-tools air box
CVT transmission
Large radiator
Exhaust and silencer
SST G2 frame with Geometric Contact Control
Double A-arm front suspension with dive-control geometry
TTI rear suspension
Visco-Lok front differential
214mm disc brakes with twin-piston calipers
12-inch (30.5cm) steel wheels
26-inch (66cm) tires
Standard skid plate
High-strength, multi-function racks with innovative and industry-exclusive LinQ system
Water-resistant rear storage box with best-in-class volume
1,300-lbs. towing capacity
Easy access to maintenance items
Industry-leading 230-watt headlights
Dual integrated taillights
Larger fuel tank
Multi-function digital gauge
D.E.S.S. (Digitally Encoded Security System)
Comes ready to accept the entire line of BRP's new LinQ accessory system
Base model with DPS available in yellow
Can-Am Outlander 500 DPS
Tri-Mode Dynamic Power Steering (DPS)
Visco-Lok QE front differential
12-inch cast-aluminum wheels with a centre-less design
Can-Am Outlander 500 XT package adds
3,000-pound WARN winch
12-inch black, machined cast-aluminum wheels with centre-less design
26-inch Carlisle ACT Radial tires
Heavy-duty front and rear bumpers
Handlebar wind deflectors
Colors available: yellow, red and NEXT G-1 Vista camo plastic
Can-Am Outlander 500 DPS Highlights
Dressed in yellow for 2013, the Outlander 500 includes Tri-Mode DPS, Visco-Lok QE and cast-aluminum wheels to help it stand out in its family.
Tri-mode Dynamic Power Steering (DPS)
The Can-Am DPS system is outfitted with three separate selectable levels of steering assistance: Minimum, Medium or Maximum. Dynamic Power Steering provides variable steering assistance no matter what mode the rider chooses or the terrain. The system is designed to offer less assist at high speed and more assist at low speed. This technology also includes a Direct Link setup that uses advanced magnetic field sensors for faster response to steering input than competitive technology, which then minimizes steering lag. Less kickback and more trail feedback is supplied to the operator because of the 50:1 final gear ratio, which is the largest in the industry. A high-capacity 50-amp motor means the DPS will never fade with heavy use and all DPS-equipped models also come with the Visco-Lok QE.
Visco-Lok QE
QE stands for quicker engagement. All DPS-equipped models come with the Visco-Lok QE calibration giving an even quicker engagement of the front differential. It progressively transfers power from a slipping front wheel to the gripping one – automatically with no buttons to push or levers to pull. Plus, there's no wheel hop or driveline wind-up so the system is totally transparent to the driver and extremely easy to steer. Can lock up to 100percent with no rev or speed limiter. This differential, unlike some competitor's differentials, does not have a speed or rev limiter.
Cast-Aluminum Wheels
The 12-inch cast-aluminum wheels with a centre-less design are outfitted with 26-inch Carlisle Badlands tires give the 500 with DPS a different look than the base Outlander 500.
Can-Am Outlander 500 XT Package Highlights
The Can-Am Outlander 500 XT includes a host of value-added, performance-enhancing parts, along with DPS and Visco-Lok QE, to give it a more menacing look and real-world functionality.
3,000-pound WARN Winch
WARN is a highly respected name in the off-road industry. The Outlander XT has a 3,000-pound winch with roller fairlead,wired remote control and integrated remote storage in the rear cargo hold.
12-inch (30.5 cm) Black, Machined Cast-Aluminum Wheels
The exclusive 12-inch black, machined cast-aluminum wheels on the XT models have a unique, custom-like finish compared to the standard model. Computer-optimized configuration increases strength in critical areas while removing unnecessary weight from other sections of the wheels.
26-inch (66cm) Carlisle ACT Radial Tires
Proven 26-inch ACT Radial tires from Carlisle provide a smoother ride and better shock absorption.
Heavy-duty Front and Rear Bumpers
For an edgier and more rugged trim, the XT models include heavy-duty front and rear bumpers.
500-watt Magneto
At 500 watts, the Outlander 500 XT uses the largest magneto in the industry and offers more amps for running accessories.
Handlebar Wind Deflectors
Wind deflectors provide improved protection from brush and cold weather and also offer a distinguished look.
Colors Available
The Can-Am Outlander 500 XT is available in signature yellow, red and the industry-exclusive, scratch-resistant NEXT G-1 Vista camo.
Outlander MAX Benefits
Outlander MAX models are specifically constructed for riding with a passenger. The longer vehicle wheelbase delivers rocksolid stability and super predictable handling with or without a passenger.
Longer Vehicle Wheelbase
The passenger rides well in front of the rear axle for rock-solid stability and super predictable handling.
Stadium-Style Seating
The passenger rides above the driver, stadium-style, and can see down the trail.
Passenger Comfort Features
A well-padded active backrest moves with rider. Raised footrests and multi-position handholds add comfort.
Convertible Rack System
The passenger seat is removable and can be replaced with a rack-extension/ totable cargo box in just seconds – without tools. BRP offers several accessories, such as a cargo box and touring box that interface seamlessly with this system.
2013 Can Am Outlander 500 ATV Specifications