Racing News
Can-Am Maverick X3 Side-By-Side Vehicle Racers Notch Huge Endurance Racing Victories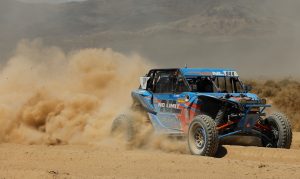 Phil Blurton Wins Best In The Desert Vegas To Reno Race
 Can-Am X-Team and Maverick X3 Turbo R side-by-side vehicle racers Phil Blurton and Kyle Chaney each earned an impressive off-road endurance racing victory this past weekend. Blurton won the 2017 Best In The Desert UTV Turbo class in Nevada, while Chaney earned the win at the Pro Unlimited UTV race at the Heartland Challenge in Iowa.
Heartland Challenge – Chaney 
Kyle Chaney Victorious At Heartland Challenge
Can-Am / XPS Lubricants / CT Raceworx driver Kyle Chaney piloted his Can-Am Maverick X3 Turbo R side-by-side vehicle to a win in the Pro Unlimited UTV class at the 10th Anniversary Heartland Challenge endurance race near Carlisle, Iowa.
The Can-Am / XPS Lubricants / CT Raceworx-backed driver grabbed the holeshot during the land-rush-style start and took the lead into the woods. Due to heavy dust and a lighting issue, Chaney dropped back two spots after his first pit. However, within one lap, the two-time Grand National Cross Country (GNCC) UTV Pro champion regained the lead, one he'd never relinquish. In fact, he beat out 70 other racers to notch his first four-hour race win since 2012. The five-mile course, which was covered in a dusty haze the entire race, consisted of a mix of specialty obstacles, wooded sections and rocks. Racers had to make as many laps as possible within the four-hour time limit.
Chaney will return to the track to defend his points lead in the TORC Off Road Championship, September 1-2 at Crandon International Off-Road Raceway in Wisconsin.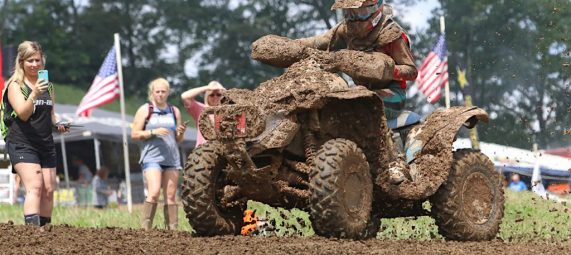 Factory Can-Am racers had a great weekend at the annual John Penton Grand National Cross Country race in Millfield, Ohio. Can-Am won both the XC1 Pro UTV and 4×4 Pro classes, maintaining the class points lead in each prestigious off-road racing class.
Side-By-Sides
Miller Brothers / Can-Am pilot Hunter Miller has made huge strides since his XC1 Pro UTV class debut at the final GNCC race last year. Just four races in to his budding career, Miller now has three podiums (and one near-miss fourth) and a victory under his belt. His most recent success on the track was winning the Pro UTV class at the John Penton GNCC in Ohio, which also marked his first career overall GNCC victory behind the wheel of his Can-Am Maverick X xc side-by-side vehicle.
Miller's 2017 results have led to a 73-point tally after three GNCC UTV rounds, giving the Texas native the XC1 Pro UTV class points lead. Hunter Miller beat his younger brother, Cody, who won the 2016 title in a Can-Am Maverick vehicle, to the finish line in Ohio. The elder Miller recorded an impressive five-lap time of 1:02:45.687 in muddy conditions to post his first win.
"I'm so pumped to be a part of the Can-Am team. The Maverick side-by-side vehicle has proven time and again to be the top platform, and I hope to bring another title to the brand," said Hunter Miller.
Can-Am also earned another XC1 Pro UTV class podium finish, as factory Can-Am racer Tim Farr put his JB Racing / Can-Am side-by-side vehicle on the box in third, less than 30 seconds behind Hunter Miller. Also, Chaney Racing / Can-Am pilot Kyle Chaney, a two-time XC1 Pro UTV class Champion, currently sits third in the class point standings after three rounds.
ATVs
Multi-time GNCC ATV champion Bryan Buckhannon earned his second 4×4 Pro class victory of the season, winning in the grueling mud in Ohio. Kevin Cunningham, the defending 4×4 Pro ATV class champion, joined Buckhannon on the podium, taking second. It was the seventh time in nine ATV rounds this year that Can-Am 4×4 racers have tallied a 1-2 finish. In fact, this was one of the closest races of the year for the two teammates, as Buckhannon and Cunningham swapped the lead during the race and ultimately were separated by less than a second at the finish line.
Cunningham, who has compiled 239 points thus far, is still in the driver's seat in terms of the class point standings and in his attempt to repeat as champion. Buckhannon has notched 196 points, which is good for second overall in the standings.
Can-Am ATV racers also won four other 4×4 ATV classes at the John Penton GNCC, including the 4×4 A (Dwight Pollard), 4×4 B (Joseph Sichelstiel), 4×4 C (Jerry Richards) and 4×4 Senior 40+ (Ken Robey).
GNCC racing is in the midst of its mid-summer break. Four rounds (three for UTVs) remain on the 2017 schedule.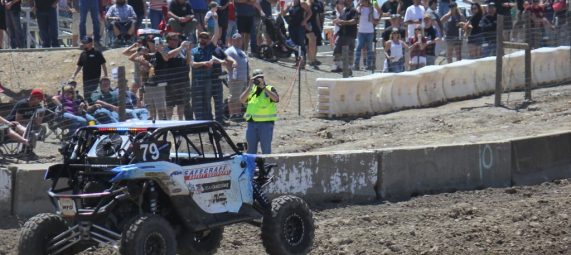 Can-Am off-road racers had great success this past weekend on racetracks around the country, notching several victories and numerous podiums.
SIDE-BY-SIDE VEHICLES
Lucas Oil Regional Off-Road Series
With impressive back-to-back over wins in the Prod Turbo UTV class at rounds 10 and 11 of the Lucas Oil Regional Off-Road Series, Jason Ellis climbed to third in the class points standings. The Can-Am Maverick X3 side-by-side vehicle pilot has been on a roll in the Lucas Oil Regional series, having scored three straight podiums.
At Round 10, Ellis completed 12 laps in 12:21.253 to earn the win. He followed up that podium celebration with another one, after posting his second win of the weekend in the Prod Turbo UTV class at round 11. This time out, Ellis completed all 12 laps in a time of 12:29.494 to reinforce that his first Lucas Oil Regional victory wasn't a fluke.
To learn more about Ellis's experience behind the wheel of his Can-Am Maverick X3 side-by-side, racing, mixed martial arts and more, check out his weekly podcast called "ELLISTRONICS" on iTunes and Google Play.
Ultra4 Racing
Can-Am Maverick X3 racer Casey Scherer won UTV Pro class at the 5th Annual Ultra4 Racing MetalCloak Stampede this past weekend at Prairie City State Vehicle Recreation Area near Sacramento, Calif. Scherer, who was the top qualifier on Friday, was on point in the finals in his No Limit SxS / TeamAwesome/ Can-Am. A good start and second-place running had Scherer in good position for the win. As the final event wore on, Scherer found his way to the front to notch the class win. He completed 8 laps in a time of 2:12:55.
TORC
Kyle Chaney (Chaney Racing / Can-Am / XPS Oil) is the current Pro Mod UTV class points leader of The Off-Road Championship (TORC) series after posting his third straight runner-up finish of the season.
After qualifying first on Friday at the Twin Cities Takedown in Elk River, Minn., Chaney drew a four on the inverted start and was forced to begin the race in row two. By lap three, however, Chaney piloted his Can-Am Maverick X3 side-by-side back up to the front of the pack. Despite his best efforts, Chaney had to end up settling for second place, which ultimately was enough to put him in the points lead – by 15 points – and in the driver's seat in his chase for a TORC championship. A severe storm with heavy winds and rains canceled round four.
ATV
GNCC

Factory Can-Am ATV racers Kevin Cunningham and Bryan Buckhannon recorded another 1-2 finish in the Grand National Cross Country series. Cunningham won the 4×4 Pro class and the 10 a.m. overall at the Tomahawk GNCC in Odessa, N.Y., posting the fastest five-lap time (2:08:37.5) aboard his Can-Am Renegade X xc 1000. Cunningham has now notched six wins in seven rounds and owns a 38-point lead over the runner-up (Buckhannon) with six rounds remaining on the season. Buckhannon has four second-place finishes to go with one victory on his Can-Am Outlander 1000.
Can-Am 4×4 racers won five classes at round 7 of the GNCC ATV series. The victories were in the 4×4 A (Dwight Pollard), 4×4 B (Gregory Condon), 4×4 C (Jerry Richards) and 4×4 Senior 40+ (Ken Robey) classes.